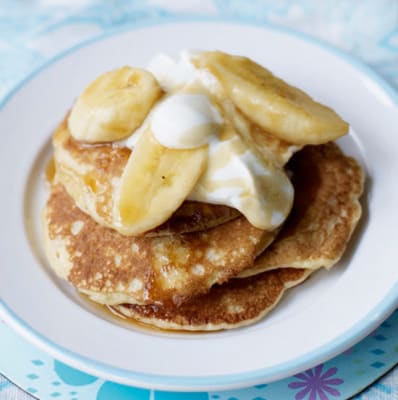 Banana pancakes with sticky toffee banana
For a special brunch treat, serve up these yummy pancakes topped with indulgent toffee-drenched bananas and thick Greek yogurt
Ingredients
125g self-raising flour
½ tsp baking powder
225ml banana-flavoured milk
1 large egg
Sunflower oil for frying
25g salted butter
65g light muscovado sugar
3 ripe bananas, peeled and thickly sliced
2 tbsp pineapple, orange or apple juice
Greek yogurt, to serve
Ready in: 30 mins
Serves: 4
Method
To make the pancakes, sieve the flour and baking powder into a mixing bowl. Whisk in the banana milk, egg and a pinch of salt until you have a smooth, thick batter.
Heat a large frying or pancake pan over a medium heat with a trickle of oil. Add the batter a tablespoon at a time, and cook for a minute or so until small bubbles appear on the surface. Carefully flip the pancake and cook for a another minute until golden. Remove from the pan and keep warm while cooking the rest of the pancakes.
For the bananas, heat a separate frying pan over a high heat. Add the butter. Once bubbling, stir in the sugar, then add the banana slices. Shake the pan to coat the bananas in the sugary butter. Cook until the sugar dissolves and becomes sticky, turning the banana slices once. Increase the heat, then add the fruit juice. Allow to bubble briefly, then remove from the heat.
To serve, pile up the pancakes on four plates, spoon over the sticky bananas and finish with a dollop of yogurt.